AcuSketch
App for creating embroidery data from drawings/sketches
Available for Tablets
iOS 13.0 or later, Android 6.0 or later
Language: iOS is currently available in English and Japanese / Android is currently available in only English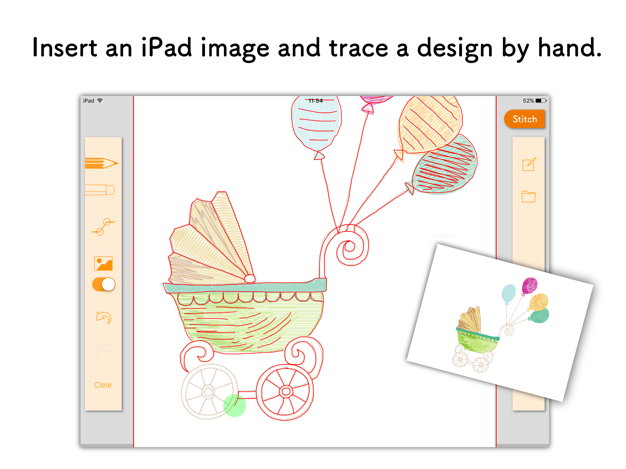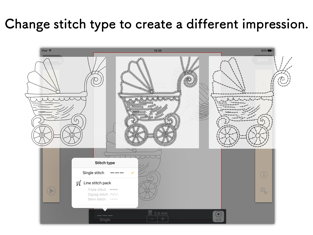 The AcuSketch app allows you to create an embroidery design by tracing on the canvas displayed on the iPad screen with your finger or a stylus.
You can send the embroidery design that you have created to Wi-Fi capable JANOME sewing machines or export the design to other applications as a jef+ file.
AcuSketch Features
Make handmade-looking work using stitches created from lines drawn freehand.
Make free-motion-quilting-like patterns and enjoy machine quilting
As the lines drawn with your finger or a stylus become stitches, even people who are not good with computers or digitizing software can create designs and make embroidery data.
Simple to use and fun.
Other Features
Additional functionality when drawing lines
By starting to draw from the end of an existing line, you can extend lines. When you finish drawing a line, you can connect the end of the line with another one.
A function to insert images for tracing
Save function for drawings
Export function for embroidery designs
Stitch simulator
compatible with the following mahines
Memory Craft 15000 version 2.11 or later
HORIZON Quilt Maker Memory Craft 15000
SKYLINE S9/atelier 9
CONTINENTAL M17
Conditions
The iPad is connected to Wi-Fi
The sewing machine is connected to the same wireless LAN access point as the iPad
For iOS9 Users
The process for exporting embroidery designs to AcuEdit is as follows.
Use the built-in "Notes" application installed on iPad. Please upgrade "Notes" to the latest version first.
Export the embroidery design to Notes as a jef+ file.
Open "Notes" and tap the exported jef+ file.
Tap the screen to display the toolbar.
Tap the export button on the toolbar to export the jef+ file to AcuEdit.
Stitches
Various stitch types

Basic stitch
Line stitch pack (In-App Purchase for iOS)

Triple stitch
Zigzag stitch
Stem stitch

Choose whether to add Locking stitches.
Adjust the length of the stitches.
Set the width of the stitches (only stitches with adjustable width).
Flip the stitches over (only stitches with adjustable width).
The stitches are sewn in order of drawing.
AcuSketch for Android  is a trademark and/or registered trademark of DRAW stitch International Ltd.
AcuSketch for iOS is a trademark and/or registered trademark of JANOME Corporation
App Store is a service mark of Apple Inc
Google Play and logo are trademarks of Google LLC.