AcuSetter
App for accurate embroidery placement
Available for iPadOS 13.0 or later and Android OS 6.0 or later (Smartphone is not recommended.)
Language : The app is currently available only in English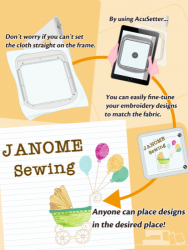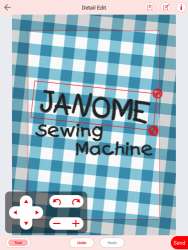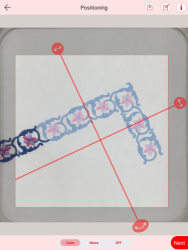 The AcuSetter app allows you to adjust the position of designs using your iPad / Android tablet and Wireless LAN before embroidering. Even if the fabric shifts a little when it is inserted in the hoop, reinserting it isn't necessary.
By taking a photo of the embroidery hoop with the fabric inserted in it, the design can be easily arranged while checking various fabric conditions (shifting of the fabric's position, fabric patterns, embroidery already sewn, cross lines etc.).
AcuSetter is compatible with the following sewing machine models:
CONTINENTAL M17
Memory Craft 15000 version 2.11 or later
HORIZON Quilt Maker Memory Craft 15000
SKYLINE S9/atelier 9
Conditions
iPad / Android tablet is connected to Wi-Fi
Sewing machine is connected to the same Wireless LAN access point as iPad / Android tablet
For iOS 14 or above, please allow the app access to find and connect to devices on your local network
Compatible embroidery hoops
RE46d / SQ28d / RE20d / SQ10d
SQ14 / SQ23 / GR / FA10 / RE18 / SQ14a / RE20a / FA10a
Link with Sewing Machine
After receiving embroidery designs from the sewing machine's Ready to Sew mode, you can arrange the position of the designs.
By sending the arranged embroidery designs to the sewing machine, you can embroider wherever you want.
Other features
For iPadOS
By changing themes, you can switch to a screen display of your choice.
App Store is a service mark of Apple Inc
Google Play and logo are trademarks of Google LLC.