JANOME wins Red Dot Product Design Award for CM7P
We are proud to announce that our latest top-of-the-line quilting and sewing machine – Continental M7 Professional (CM7P), was awarded a Red Dot 'Product Design 2020' award for design quality in the 2020 design competition.
The CM7P is a household quilting and sewing machine for advanced users who enjoy creating a range of high quality work. Offering a sewing area (width 343 mm x height 140 mm) among the largest in the industry, together with a hybrid exterior body which utilizes a combination of resin and die-cast metal exterior materials in order to enhance sewing quality, the machine combines high level operability and reliably beautiful stitching to greatly expand the possibilities of expression.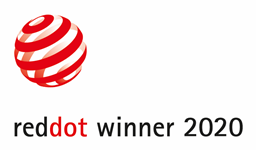 We would like to take this opportunity to recognize the efforts of our design team in creating this state-of-the-art machine and congratulate them on achieving this award.